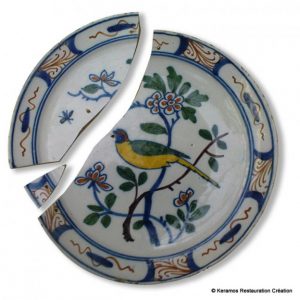 Q

uote
We will give you a free quote after examining the object. A first non-contractual estimation can be done from photos.
Rates don't depend on the real value of the item but on their condition, on the level of restoration and on the time spent. We have to examine the item thoroughly before determining the steps of restoration. They are no two identical situations, and each restoration is a single case
Restoration - conservation,  museal restoration ,  illusionnist restoration , what should we choose from ?
An intermediary restoration can be envisaged with the approval of the owner, according to the object and its origin.
D

eadlines
Deadlines depend on the condition of the item, on the level of intervention, but also on our workload. They are established after the first meeting at the workshop.
U

navoidables steps
If the object is glued or stapled, we have to do a "derestoration". Indeed, old techniques are often unsightly, and can damage the item over time..
Unavoidable steps are gluing, filling holes, sanding, painting of the base paint and the design, varnishing. All those steps are according to the level of restoration.

A

dditional steps
We will sometimes need to complete our work with appropriate operations: filling lacks, recreating pieces, consolidating fragile parts, painting the design again, and so on.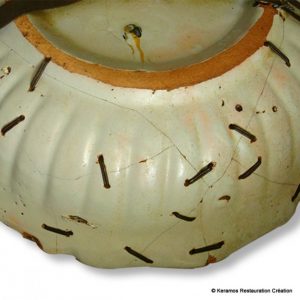 Derestoration : unglue, staples ...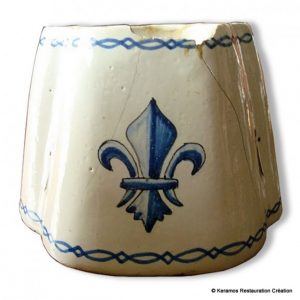 Recreating pieces, lacks ...